Printable Pretend Play Set: Restaurant
Pretend play is my five-year-old's favorite way to play. Ever since I made the Pet Adoption & Vet Clinic Pretend Play printable sheets, she has requested again and again for more. I finally got around to making this Restaurant set last night, with her glued to my side and making suggestions here and there. There are two versions of the main Restarurant Menu; one is empty and one is full of general, kid-friendly foods that Lorelai helped me pick out. You could always print out (or clip from a magazine!) pictures of food and add them that way. There is also a sheet for a standard "receipt". Nothing fancy… just fun!!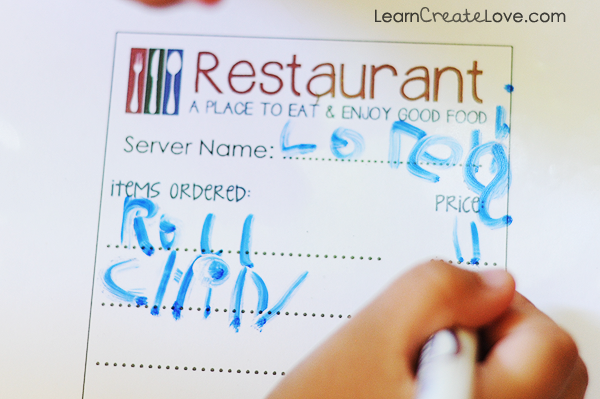 Lorelai and I made "food" with her play dough and we took turns being the server/chef. We play this all of the time anyway, but it really was neat to have the printable there! I was initially going to laminate the sheets like I did with the Pet Adoption sheets, but I couldn't find the pouches. I pulled out a standard sheet protector (like the kind you would put in a binder) and it worked great!! It was actually a LOT easier to erase the marker on the sheet protector than on laminate. I will definitely be faux-laminating our printables from now on. =)
Well, there you have it! Another fun pretend play printable set to play with! Print below and enjoy!
Restaurant Menu (blank) & Restaurant Menu (filled) & Receipt




Printable Instructions | Terms of Use | Facebook Page