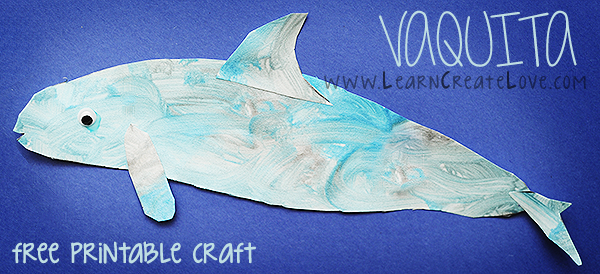 When researching different endangered animals for our Endangered Animals Unit, I came across the rare Vaquita. The vaquita also happens to be the National Marine Animal of Mexico — which fits in with our Around the World Series: Mexico as well! Anyway, the Vaquita is a very small cetacean that only grows to be 5-feet long at most. The printable itself is very simple… Lorelai painted hers a mixture of metallic silver & blue! Print below and enjoy!
Open Vaquita Printable
Facts About Vaquitas
Vaquitas are also known as the California Harbor Porpoise and are rarely seen in the wild.
There are only 400-600 vaquitas left in the wild.
They have a very restrictive range and only live in the northern end of the Gulf of California. The Mexican government created the Upper Gulf of California Biosphere Reserve in 1993 to help protect the vaquita habitat.
The biggest threat to vaquitas is fishing gear. They often get trapped in nets meant for sharks, rays, etc. Shrimp trawlers also pose a threat to them.
Read more about vaquitas here
Video – story of a baby vaquita that got washed ashore & rescued. In spanish with subtitles.

Printable Instructions | Terms of Use | Facebook Page | Pinterest