Valentine's Reading Challenge Printable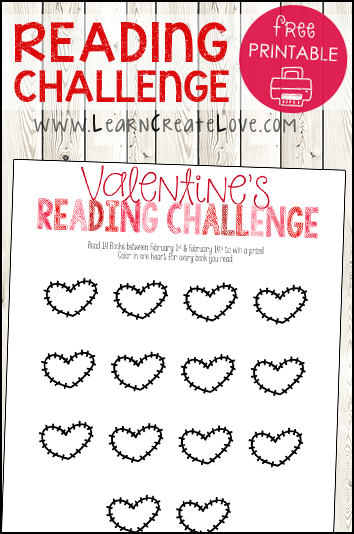 Whether you have a reluctant reader or a book worm, a reading challenge is always a good incentive to get your child reading – and keep them reading! My daughter happens to fall in the latter category; she's never far from a book and usually has her nose stuck in one. I decided to make this reading challenge as a fun way to keep her reading through the month of February.
The idea is simple — read 14 books in 14 days. There are no rules (feel free to make your own!). Chapter books, picture books, or simply you both reading together. Color in a heart for each book/chapter that is read.
I put a "prize" line but there doesn't have to be a prize other than the accomplishment of reading 14 books in 14 days. Though, a prize is pretty good incentive! Here are some fun and cheap ideas:
– Activities: Visit to Chuck E. Cheese's ($5 worth of coins), Bowling, Matinee Movie, Indoor Playground/Jump Zone.
– Books! (This is what we are doing.) A trip to Half Price Books (or your favorite book store) for a couple of new books.
– Small toys, puzzles, board/card games (UNO is super fun!), outdoor toys, art supplies.
I hope you do end up taking the Valentine's Reading Challenge here at LearnCreateLove! Grab the printable below and enjoy!
Open & Print Valentine's Day Reading Challenge
If you're looking for a non-themed printable, you can check out our Reading Challenge Printables here!
Printable Instructions | Terms of Use | Facebook Page | Pinterest