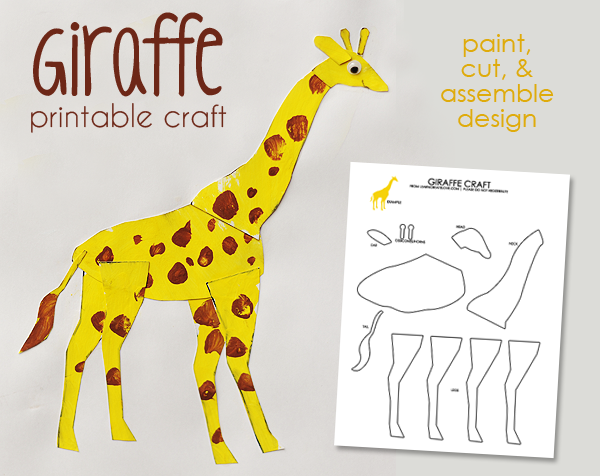 Open Giraffe Printable
Giraffes are such neat animals; from their ossicones to their long necks, from their spots to their tongue, giraffes just stand out. Lorelai has always loved giraffes. They are a favorite at the zoo – we never miss their enclosure! When Lorelai originally did this craft, about a year and a half ago, she did two… one was pink, and one was yellow. You can open and print the craft via the link below. What color(s) will your child make his/her giraffe?
Other LearnCreateLove Giraffe Crafts:
Paper Bag Giraffe Puppet
Handprint Giraffe & Giraffe Worksheet
Fun Facts About Giraffes:
Giraffes are herbivores.
They live about 25 years.
They can run up to 35 miles per hour!
The giraffe's tongue is 13 inches long on average! They use them to pull the leaves off of trees!
The spots on a giraffe are unique; no two giraffes are the same!
Read more about giraffes here.
Children's Books About Giraffes:
Giraffes Can't Dance by Giles Andreae
One Spotted Giraffe by Petr Horacek
A Giraffe in the Bath by Mem Fox & Olivia Rawson
Printable Instructions | Terms of Use | Facebook Page