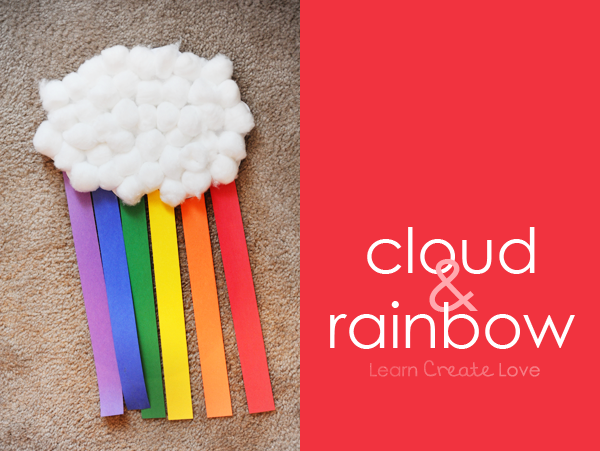 This was another fun craft that I'd had planned for earlier in the week, but life got in the way. So, we did it this morning to finish off our weather week. We talked about rainbows before and how they are the product of lighting reflecting off of water droplets. My rainbow-loving girl didn't really care why or how rainbows are made; she was just happy to get to make another one! =)
What We Used:
1 Piece of Cardstock Paper (to print on)
Construction Paper: red, orange, yellow, green, blue, purple
Cotton Balls
Scissors
Liquid glue
Glue stick (optional)
Directions:
Stack all of the construction paper and cut length-wise down the paper so that you have about an inch-wide strip of each color.
Print & cut out the cloud printable (below).
Add glue to the entire surface of the cloud paper.
Have your child press down cotton balls to cover the entire surface.
Allow to dry for a few minutes, then flip the cloud over and, using the glue stick, glue down each color.
You're finished!
A cute alternative to construction paper would be strips of party streamers or even our hanging rainbow pasta!
Open Cloud Printable